WHAT IS EASY PEEZY & HOW DOES IT WORK?
MAGIC AND SORCERY. NOT REALLY, IT,S ACTUAL SCIENCE!
Short answer. Zeolite
Zeolite is a natural mineral that is created when volcanic ash falls and settles into an alkaline water source. Then, over time (a lot of time) the deposit cools and is covered by tons of earth that creates tremendous external pressure.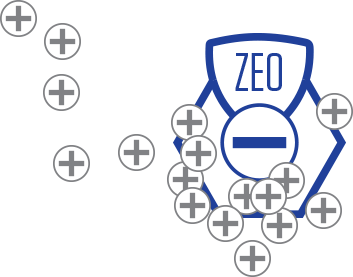 The entire process produces a mineral that is negatively-charged and highly absorbent. The negative charge attracts positively charged ions, such as ammonium, heavy metals and harmful toxins.
Of the almost 200 unique types of Zeolite, Mallard Creek Inc. has chosen Clinoptilolite Zeolite to create the EASY PEEZY stall freshener. This strain has a reputation as a naturally safe mineral that provides high performance odor-elimination.
Easy Peezy works in 2 ways - Absorption and Adsorption
Easy Peezy acts like a sponge. It can hold up to 80% of its mass in liquid. This is absorption. It can also adsorb up to 7% of its own mass in cations (positively charged ions) such as ammonia. When Easy Peezy comes into contact with urine, it soaks up the liquid and neutralizes the odors by breaking apart the ammonia ions – holding the hydrogen atoms and leaving behind the nitrogen. Easy Peezy does not cover the odor with any perfumes or scents. The science behind the two interacting materials neutralizes the smell.

ADDED BENEFIT
When it comes time to clean-out or strip the stall, simply discard the Easy Peezy with the soiled bedding. If you compost your bedding, the absorbed ammonia will slowly break down and nitrogen will be released into the soil. This makes the by-product an outstanding fertilizer.
Bottom line – Easy Peezy soaks up the mess and eliminates the harmful odors.